The launch of the history of Lingford & Gardiner, at the Four Clocks Centre on the 13th August, brought to attention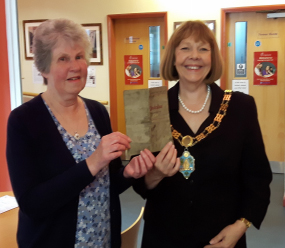 the existence of a document of significance to the town's industrial heritage. Pictured here with the Town's Mayor, Ann Golightly, Ann Woodward, a local Bishop Auckland resident, can be seen displaying an original Indenture document dating from 1866. The document, hand written on parchment, relates to one of Mrs Woodward's direct antecedents a Robert,Henry,Albert Simpson, who was employed as an apprentice engine builder, from the tender age of twelve; at the L&G works in Railway Street. It is extremely rare for such a document to survive intact, and it gives a great insight into the employment practices of the day. The document itself is signed by young Robert, his father a local printer and significantly by both Samuel Sutton Lingford and John Gardiner.
Mrs Woodward's relatives continued to be employed by Lingford & Gardiner until the firm's closure in 1930, and her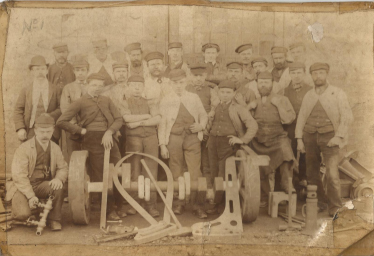 grandfather, Alf Simpson, is seen standing extreme right (first row) on our L&G workforce photograph dating from c1900. Alf was to become the foreman of the Auckland Cycle Works, an L&G subsidiary famous for the manufacture of the patented Rational Umpire spring framed bicycle.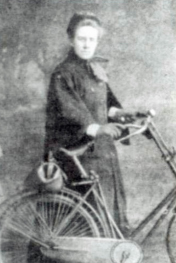 Alf was also involved with the manufacture of the Rational Umpire bicycle seen here with Violet Edith Wood. Violet, originally from Hampshire, was to work in Bishop Auckland as a district nurse, long before the days of the NHS. Violet was also to run a private nursing home, from her premises in 21, Princess Street. Dying unmarried in 1948, Violet left legacies to a number of local charities and also to the Bishop of Durham's butler!