BACKGROUND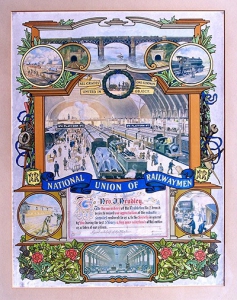 For hundreds of years organisations with a marching tradition used banners to identify themselves and their cause, with banners relating to trade societies and reformist groups dating back to the 1790s.
The banners of railway workers and their trade unions are amongst some of the most detailed and evocative of the British Labour Movement, and date back to the 1870s.
The premier manufacturer of trade union banners was George Tutill & Co., of City Road London, who commenced manufacture in 1837 and continues to this day.
NATIONAL UNION OF RAILWAYMEN
The Union was formed in 1913 following the amalgamation of various rail related unions and societies, dating back to the 1870s.
The combined union had a membership of 267,000 by 1913, and opened its doors to female membership  in 1915, in recognition of the number of women employed on the railways in the Great War