The Four Clocks Heritage Project is a collaborative venture between the Four Clocks Centre, and the Auckland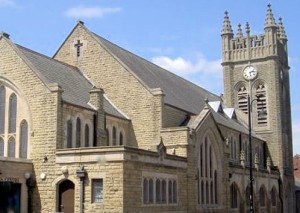 Railways Group
The aim of the venture is to promote the town's heritage links, with a particular focus on its industrial past.
The project features a permanent exhibition in the Centre itself, comprising artwork, photographic display, supporting information boards, exhibits and artefacts.
A central feature of the exhibition is the  century year banner of the Bishop Auckland Branch of the National Union of Railwaymen, hanging proudly from the rafters of the building!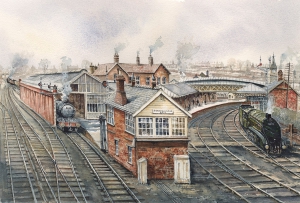 With its location at the heart of the former industrial and railway centre of the town, the Four Clocks is the deal home for the heritage project. Situated on the town's main thorougfare, Newgate Steet, the century year Grade 2 listed structure is one of the town's outstanding buildings.
The exhibition is a free to view facility, and the Centre and its cafe are open to the public from Monday to Saturday.
Those wishing to view a sample of projects photographic and supporting text boards please click on the links below: