1953 photograph by Jack Armstrong, of a British Rail Q6 locomotive approaching Bishop Auckland goods yard from Durham, pulling a mixed load of wagons, and with the iconic Four Clocks Wesley Church in the background.
Bishop Auckland goods yard had over 12 sidings in the 1950s, and the 1956 Handbook of Stations lists Bishop Auckland of being capable of handling all types of freight
The Raven designed 0-8-0 Q6 locomotive was introduced in 1913 to meet the increases in North Eastern Railways mineral traffic. A strong and reliable locomotive, it gave service right to the end of the era of British Rail steam. Our fine example, LNER 63433, was built in 1920, and was to stay in service until 1963.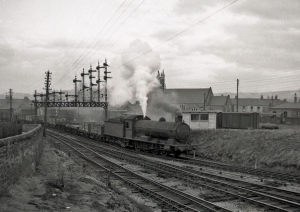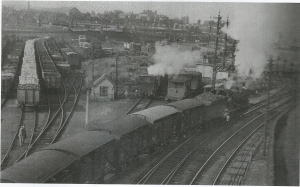 Q6 photograph courtesy of the Armstrong Trust BA goods yard photograph the NE Stead Collection